Best Dry Fruits for Health Benefits In USA 2023-24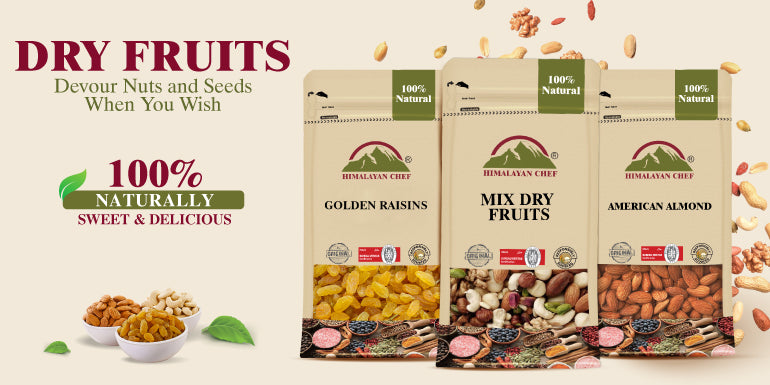 Himalayan Chef is a brand that offers a wide range of products. We offer the best quality dry fruits that are 100% natural and pure online in Pakistan and worldwide. These are rich in vitamins and antioxidants, which are suitable for health. The best way of keeping you warm, especially in winter, when the immune system may need a boost.
Dehydrated fruits have been dried to remove their water content, which loses their moisture naturally, also known as dehydrated fruits help preserve and concentrate their flavors to make them nutritious snacks.
"When you are feeling a little dry, our dry fruits are the best choice to boost your energy."
Benefits of Dry Fruits
Dehydrated fruits have several benefits due to their concentrated nutrient content. Some of the key benefits are:

Nutrient-Rich
These keep all the nutrients present in fresh fruits but in a shrinking form. They are good dietary fiber, vitamins, and minerals sources and provide essential nutrients such as potassium, iron, magnesium, and vitamin C.

Prevents Wrinkles and Maintains Healthy Skin
Essential oils and antioxidants will help to maintain your skin's radiance and glow. These rich essential oils can help your skin prevent aging.

Energy Boost
Dehydrated Fruits and nuts are powerhouses of energy. These contain natural sugars that may provide a quick and natural energy boost, making dried fruits an excellent snack for athletes or those needing energy.

Strong Bones
Bone health can improve by eating calcium-rich dry snacks e.g. dry apricot, dates, dry figs, and prunes. Minerals like Calcium and potassium are rich in fruits that can strengthen your bones.

Versatile Ingredient
Dried fruits and nuts can be used in various ways like cooking and baking. They add natural sweetness and flavor to fruit salads, baked goods, and savory dishes.

Weight Management
While these are calorie-dense due to their concentrated sugars, they are still a part of a healthy diet when devoured in moderation. The high fiber content may help to promote satisfaction, which may prevent overeating and aid in weight management.
Difference between Dry Fruits and Nuts
Dried Fruits
The fruits that are dried naturally using the sun from fresh fruits are called dry Fruits.
Examples: Raisins, Dried Apricots, Dry Dates, etc.

Nuts
Nuts are fruits with a hard shells and are typically harvested from trees
Examples: Almonds, Walnuts, Peanuts, etc.
Nutritional Value
These are not only delicious but also pack a nutritional punch. These are cultivated from the best manufacturing regions where they are grown under the management of food experts. Rich in healthy nutrients like magnesium, potassium, and vitamins like A, D, B6, K1, and E. While these high fibers and nutrients may link with your body's regular functions.
List of Himalayan Chef Premium Quality Dry Fruits
Why are Dried Fruits a Healthier Snack Choice?
These are abundant in vitamins and essential oils for our health. Sunlight is used to reduce the moisture of fruits. Himalayan Chef provides its customers with the best quality product, free of additives and preservatives, which provide a fantastic energy source. They may also be helpful for diabetic patients. Its antioxidant properties can help protect the body against diseases like heart disease, cancer, etc.
"Are you fighting health diseases? Boost your immune system with these pure and nutritious dry fruits."

Where to Buy Fresh and Pure Dry Fruits Online in Pakistan?
When searching for the best quality online in Pakistan, choose Himalayan Chef which is 100% pure and natural with nutrients. Our primary goal is to bring delicious and fresh products to customers. Being a well-known and leading seller worldwide, It offers the nutrients and flavors for a healthy lifestyle and provides a wide range of naturally dehydrated fruits that are pure and natural in quality.

Himalayan Chef | Super Fresh and Super Delicious Dry products
When it comes to freshness, Himalayan Chef is the best brand that provides 100% pure and natural products. We source carefully and undergo rigorous quality checks to ensure that you receive only the finest products. We believe that the true essence lies in their exceptional taste, texture, and nutritional value.
Each bite of our super fresh dehydrated fruits delivers a delightful explosion of flavors. We take pride in offering you the freshest desired product. Our commitment to quality ensures that you can indulge in these super fresh and super delicious treats with confidence.
Drying Process 
We rely on a traditional and natural method known as sun drying to sun-dried fruits. This age-old process takes full advantage of the region's abundant sunlight and dry climate. To begin, they carefully select ripe and high-quality fruits, such as apricots, apples, plums, and peaches. Embracing the sun-drying technique, Himalayan chefs preserve the natural flavors and nutritional value of the fruits while adding a touch of traditional wisdom to their culinary practices.
Eco-Friendly Packaging 
At Himalayan Chef, we believe in taking care of our planet while delivering exceptional quality to our valued customers. That's why we have made a commitment to eco-friendly packaging, ensuring that your favorite treats come in sustainable materials that reduce environmental impact.
By choosing our eco-friendly packaging, you can enjoy premium quality. We are committed to continuously improving our sustainable practices and exploring innovative packaging solutions that align with our environmental values.
Which is Healthier Dry Fruit?
When it comes to the health benefits, it's challenging to determine which is the healthiest. Different products offer unique and different nutritional profiles and contain varying amounts of vitamins, minerals, and antioxidants. However, Himalayan Chef dried fruits generally provide numerous health benefits and are valuable as a balanced diet.
Eating Himalayan Chef Dry Fruits in the Morning
Boost your morning routine with the goodness of a healthy diet. Filled with essential nutrients like vitamins, and antioxidants which provide a nutritious and energizing start to your day.
These are full of minerals that may boost your metabolism. Eating fiber-rich dry snacks in the morning can help to prevent constipation and maintain a healthy digestive system.

"Start your day with a nourishing diet to energize yourself"
Are Dried Fruits Beneficial for Hair?
Adding these into your diet can provide the essential nutrients your hair needs to grow. Snack on them as a delicious and beneficial treat, or add them to your meals, cereals, or smoothies to boost hair-loving goodness.
Unlock your hair's natural beauty with the nourishing benefits. Embrace a healthy lifestyle and let your hair shine with vibrancy and radiance.