How to Use Himalayan Pink Salt Block for Cooking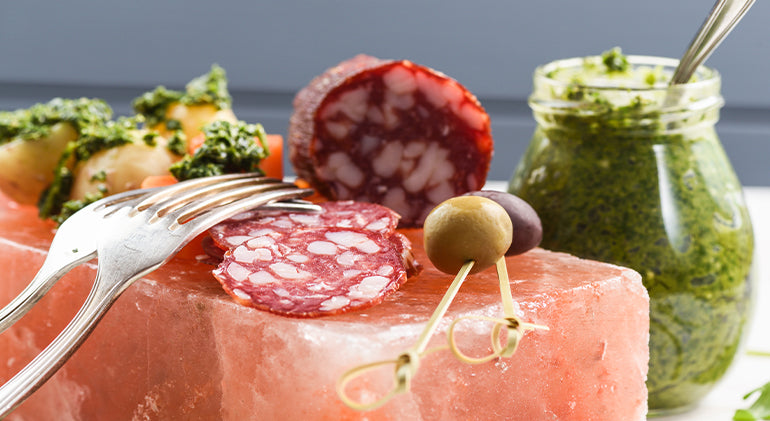 The Himalayan pink salt block consists of the crystalline salt block containing in it the 80 plus mineral salts essential for the human body. The salt blocks are extracted from the foot of Himalayan mountain range. It is the purest form of sea salt. The salt blocks can be utilized for the sautéing, grilling, cutting; baking, salting, serving and bathing. The salt blocks of the salt also tend to work as decorative pieces in the house lounges, kitchens, and bedrooms.
Use for the cooking purposes:
The salt block is used for the cooking purposes. When added in food it maintains the body PH level.  Besides it adds a distinctly unique flavor to the food. The salt block having low porous texture has an ability to be heated and cooked on directs stove or oven. Due to no residual moisture they can be easily chilled and heated to for the desired purpose. The salt blocks are tested to be heated up to 700 Fahrenheit that shows it can be conveniently used for grilling, gas oven and electric oven heating purposes   and the temperature without melting beside it is also on the extremely low temperature of 0 Fahrenheit
Salt blocks used for cutting purposes:
Pink salt is naturally anti-bacterial mineral food when grind or cut on the salt block is sure to be free of bacterial contamination. The foods also get contaminated with the essential minerals that should be the daily constituent of our diet but are not present in the regularly available table salt.
Serving platters The salt block is available in different colors shades and shape having a mesmerizing look and are able to be served as serving platters in front of your high profile guests and gatherings. The blocks are available in different shapes, color and sizes according to the consumer's requirement.
Cleaning the Himalayan Pink Salt Block:
The salt block is a block that can be used again and again repeatedly for servicing, cooking and cutting purposes.  So it needs to be cleaned for the further use.  After using the block, apply the damp cloth or sponge to moisten the block. if there is any material left stuck on it, scrub it to remove. After cleaning the block place it on the dish rack to dry it. No need to apply the detergent on the block for cleaning it as the salt itself is antibacterial.  The micro bacterial ability of block assures that it is bacteria free and is ready to use for the next time.
Disclaimer:
The statements enclosed herein have not been evaluated by the Food and Drug Administration. The products mentioned on this site are not intended to diagnose, treat, cure, or prevent any disease. Information and statements made are for education purposes and are not intended to replace the advice of your family doctor.